Is your home/building Fire Safe?
Have you ever thought about whether your home is fire safe? Losing your home to a fire is a scary thought, as our homes are an extension of ourselves, it's the place where memories are made and where we feel safe from the craziness of the outside world, so the thought of that going up in flames is horrifying.
Unfortunately, whether a fire can start in your home or not is not always within your control and accidents do happen, but there are plenty of things you can do to prevent a fire from starting and spreading.
Let me start by looking at a few facts, according to Fire Safety In The Home published by the government of the UK:
You are 8 times more likely to die in a fire if you do not have a working smoke alarm in your home.
Around half of all home fires are caused by cooking accidents.
Two fires a day are started by candles.
Every six days someone dies from a fire caused by a cigarette.
About three fires a day are started by heaters.
Faulty electrics (appliances, wiring and overloaded sockets) cause around 4,000 fires in the home across the country every year.
Now, that said, there are a few things you can do to help reduce the risk of fire in your home. Some of these you can do yourself and others you may need to contact either the building owners, authorities or fire safety professionals to assist you with.
Here are a few of the ways you can check and reduce the fire risk.
Make sure your house is fitted with a smoke alarm, at least one on every level of your house and that they are working properly. Get in the habit of testing the smoke alarms once a month and asking someone (your children, spouse, or roommate) to listen for the alarm in the farthest part of the house and make sure they can hear it.
Store all flammable products safely according to their label instructions. If you are lighting candles, make sure they are completely extinguished before going to bed. Another good tip, if you have children at home, is to buy child resistant lighters and match boxes and make sure to keep them in a locked cabinet or out of reach.
If you have to keep gas canisters at your home, try and store them in an outdoor shed or building away from the house.
Take care when cooking, especially if you are using a deep fat fryer. According to the National Fire Protection Association almost half of house fires start in the kitchen with cooking being the cause of 49% of reported home fires between 2015-2019. Unattended equipment is a factor in one-third of reported home cooking fires and over half of the associated deaths.
Check all electrical appliances and make sure they are away from contact with water and heat, know the socket limits and make sure they are not overloaded. Also ensure that all cooker and boiler installations are completed by approved gas engineers. Check the wires of your electrical items, look for surge marks in wires and for damaged cords, if you see any unplug and replace them immediately.
Know your escape route! It is so important to know how you and your family are going to leave the house in the case of a fire. Make sure everyone knows the escape route and go through the plan with everyone at least twice a year.
If you are living in a block of flats familiarise yourself with the building fire procedures, it will be in your lease if you are renting. Make sure to checks things such as how often the firefighting equipment has been checked and inspected, and that all the smoke alarms are fully working.
Check your chimney if you have one. Open fires have become more popular in recent years. It can be exciting to use one for the first time, but they can be dangerous. Before lighting one you must ensure that the chimney has been swept, including chimneys used as flues for gas fires, so if in doubt ask a professional.
Fit a carbon monoxide detector, carbon monoxide poisoning can result from burning all fossil fuels, not just gas fires and boilers, so you'll need a detector even if you just have an open fire. Check when your boiler or heating appliances were last serviced and consult a professional if in any doubt. Carbon monoxide detectors should comply with British Standard BS 7860.
Invest in fire safety equipment – fire extinguishers and fire blankets can and should be used at home and everyone needs to know how to use them correctly. When buying a fire extinguisher there are few things you need to know. Class A is for regular materials such as wood, cardboard and cloth, Class B works on flammable liquids, such as gas, oil and grease, and Class C is for electrical equipment, like wires and fuse boxes. Your best option is to look for an extinguisher that is rated A-B-C, that way, you'll be covered for any type of emergency.
Arrange a fire safety check, many Fire and Rescue services offer a free fire safety risk assessment, an invaluable tool that can end up saving your life. To request a visit, go to fireservice.co.ukto locate your local fire service. 
In addition to these recommendations, you can also practice some daily safety habits, just simple precautions and being aware of your surroundings can lower the chance of a fire in your home.
Simple things like cooking can become a danger if done whilst distracted or under the influence of alcohol, as mentioned above, and this is only one example. Here are some safety behaviour practices you can do to keep you, your family, and your home safe.
Candle
Never leave candles unattended in the room. Always keep them away from any flammable items like blankets and curtains. Place them in a tip-proof holder and always extinguish them before going to bed.
Close Bedroom Doors
House fires can spread quickly when there are no barriers, something as simple as closing the bedroom and kitchen doors at night may help to slow the spread of fire.
Don't smoke inside
We do not recommend smoking at all, but if you do there are things you can do to reduce the risk of a fire in your home.
Smoke outside and put cigarettes out properly, in a proper ashtray. Never smoke in bed, and don't leave a lit cigarette lying around.
If you are using e-cigarettes be sure to use the manufactures charger and unplug them as soon as charged, do not leave on charge overnight.
Know how to use your Fire Extinguisher  
While the specifics may vary depending on the model you own, most fire extinguishers operate in the same basic way, stand around six feet away from the fire and remember to PASS:
Pull: pull the pin at the top of the fire extinguisher while holding the nozzle away from you to break the seal.
Aim: Aim the extinguisher nozzle low at the base of the fire.
Squeeze: Squeeze the handle/lever slowly and evenly to release the extinguishing agent.
Sweep: Sweep the nozzle from side to side, continuing to aim at the base of the fire.
We hope that you found our tips and suggestions useful – fire safety awareness could save your life!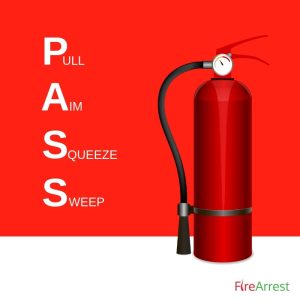 Sheida Esfandiari | Marketing Assistant
Favourite dessert: Tiramisu
Favourite ice cream flavour: Chocolate
Favourite season: Summer