What Can FireArrest Achieve For Your Company?
It is important that your company meets all the required compliance to government safety standards, by providing full end to end documentation for fire stopping industry standards. Do not get caught out! The FireArrest product covers your complete process, from initial project survey to completion. It provides full documentation and keeps everyone updated. Store your projects with us digitally, for as long as you wish to!

Manage Costs
FireArrest OnSite Reporting allows you to cost your projects efficiently, using our accurate itemisation tools. From this you can track project points, labour and stock costs with accurate reporting. All for a low cost, FireArrest will improve your business processes.
Manage Safety
Firstly, FireArrest allows your surveyors to complete risk assessments and method statements with ease, in a quick fashion. This is achieved by adding these documents onto the FireArrest Management Console, then they are digitally signed on the OnSite reporting tool. It really is as simple as that! Most importantly than all, a project cannot be started on the reporting tool until both documents have been signed. Our Management Console allows you to view the signed reports as seen below.

Manage Labour
FireArrest will guide your team to work points and allow them to give accurate, timestamped information on individual works completed. The OnSite Reporting tool allows for accurate pins to be placed during the surveying process, and after the work has been completed. All photographs taken at each point are timestamped, allowing for accurate project tracking when on site. These photographs can be viewed on both the Reporting Tool and Management Console.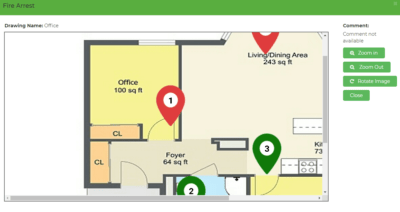 Our recommended package is FireArrest 'Pro'. This package includes a massive 1TB storage on our cloud hosted servers, allowing you to store a large quantity of projects, with access to them 24/7. Most importantly, you will have unlimited drawing uploads in this plan. No need to worry about drawing credits, all you will need to consider is the total number of users/operatives that will use the FireArrest System!
For more information please browse our website or contact us on 0845 4 903 901

Andrew Blackwell | Project Manager
Favourite clothing brand: Tommy Hilfiger
Favourite condiment: Caramalised red onion chutney
Favourite TV series: Breaking Bad
Sharing is caring!