What Are the Elements of Passive Fire Protection?
Passive fire protection (PFP), is a crucial component of any effective fire safety strategy. Not only does it play a critical role in protecting the welfare of human beings, but it also serves to limit the impact of fire and smoke to buildings and the contents within it.
Passive Fire Protection: How Does it Work?
Passive fire protection works by:
Utilising fire-resistant walls and floors to negate the spread and damage caused by fire, smoke and heat by restricting a blaze to its origin area.
Protecting escape routes and allowing occupants to escape in the event of an emergency.
Protecting the structural integrity of a building.
Protecting the assets within a building.
Passive fire protection works alongside Active Fire Protection (which we'll cover in more detail below), such as sprinkler systems, fire extinguishers, and the ongoing fire education of those who occupy the building.
The Importance of a Responsible Person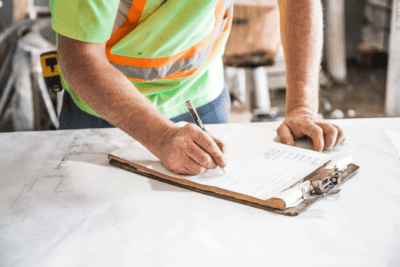 In the UK, PFP must adhere to Building Regulations to ensure that people are able to exit a building that will remain structural intact in the event of a fire.
This legislation clearly states that the responsibility is that of building owners, occupiers, managers and designers to regularly undertake fire risk assessments, which should also include the appraisal of the PFP measures currently in place.
At Fire Arrest, we advise that the original building specifications should include a transparent fire protection strategy. The number of people who are then authorised to alter this strategy should be kept to a minimum to ensure that fire protection isn't compromised.
Fire Prevention
Fire prevention best practice should always be adhered to right from the very start of a new building design or a project to alter a current construction.
It is vitally important that any new installation or refurbishment has the appropriate fire stopping protection in place, as the integrity of the entire fire protection system could be at risk if this is not done correctly.
The national standards for electrical installations the BS 7671, states that wiring installations should be correctly sealed as an efficient fire stopping device.
The responsibility for this depends on how large the project is. For smaller projects, where only one electrician is involved, the responsibility falls on them. However, more considerable projects may require more specialist parties, each of which will be responsible for their individual specialism.
Surveying a Premises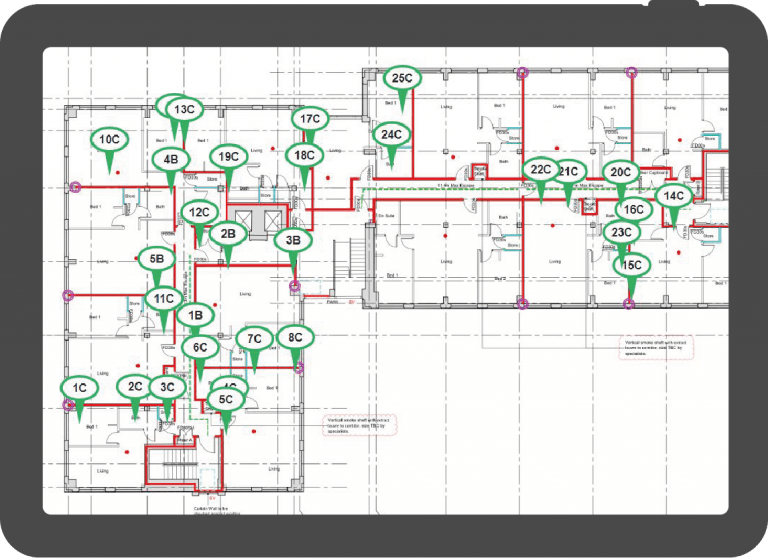 A Fire Protection Survey takes the outcomes of a Fire Risk Assessment to formulate a list of tasks that must be undertaken throughout the property to protect occupants, by creating clear escape routes, removing potential hazards and making fire fighting equipment, such as fire extinguishers, readily available.
Particular attention should be paid to the safety of the young, elderly and those who are physically impaired.
The owner of the property will usually undertake the Fire Protection Survey, sometimes using specialised software, such as our surveying technology. However, it's not uncommon for businesses to outsource this worked to an accredited third-party.
Products for Passive Fire Protection
The demands placed on passive fire protection products have increased in recent years, in part due to the pressures to improve thermal insulation and bring down energy costs.
Certified PFP products installed in a building to improve fire safety:
Fire doors.
Fire-resistant walls, floors, ceilings, and ducts.
Firestopping and fire protection to retain the structural integrity of the building.
Fire-resistant epoxy coatings.
Protection for vital equipment such as oil or gas canisters, first-aid boxes, and anything that contains volatile materials.
These kinds of products may be included in the construction of a new building or added to an existing structure. Either way, PFP products should be third-party certified and maintained to ensure they are fit for purpose.
Fire Doors
A fire door is a door that can repel flames and smoke, to ensure occupants have enough time to exit the building safely. These doors are usually available as 30 or 60 minutes rated, which means they are guaranteed to resist fire for that specific length of time as a minimum.
Fire Dampers
Fire and smoke dampers are fitted in heating, ventilation and air conditioning ducts to prevent the spread of a blaze within the ductwork, which closes automatically once the temperature begins to rise.
Firewalls
A firewall is a fireproof wall or barrier used to prevent the spread of flames between rooms or through building structures.
Why is Accreditation so Important?
Independently accredited products will give users that peace of mind in knowing that key standards are being achieved. Additionally, using an accredited fire protection company also means that installing these products will be done the required standards, and third-party inspections must be undertaken to verify as such.
What is the Difference Between Active & Passive Fire Protection?
A complete fire protection plan requires the implementation of both Active and Passive Fire Protection. While the elements of Passive Fire Protection, are as described in this blog, a series of built-in fire-resistant features. Active Fire Protection is essentially manual or automated systems that require intervention to activate, such as sprinklers, alarms and extinguishers.
With Active Fire Protection, you're taking action to put out a fire, whereas PFP aims to prevent a fire that has already started from spreading. Combining the two approaches means that those within a building can be alerted to a fire, contain the spread and allow intervention to put it out.
If you have any questions about anything we've covered in this blog, or you're interested in our industry-leading fire prevention software, please don't hesitate to contact us today.

Hannah Cheshire | Head of Marketing
Favourite superhero: Wolverine
Favourite sport: Ice hockey
Favourite music genre: Punk rock / Alternative rock
Sharing is caring!